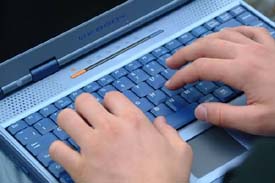 In its full-service online mode, Precision Color provides a convenient, secure and cost-effective way for customers to conduct their business.
Our innovative customer portal program provides a site that allows you to easily request estimates, place orders any time of day or night and send a file.
Our online proofing system is heralded for being among the best in the industry. It's easy to learn and even easier to use. You'll be able to receive and return your proofs without mail or delivery delays, saving valuable time and money in the process.
Thanks to the convenience of our online file transfer module, there's no need to make special trips to our facility just to deliver a disk. You can easily send a file from your computer to ours in a matter of minutes.
To enjoy the power of our customer portal program or the convenience of our online proofing system, contact one of our customer service representatives for more information.